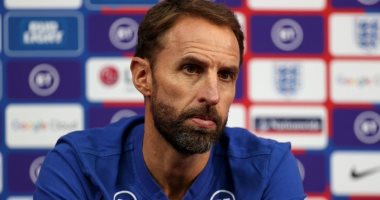 England coach Gareth Southgate confirmed that his country is ready to face any racist chants, during the face of his Hungarian counterpart, scheduled for Thursday, in the fourth round of Group I of the European qualifiers for the World Cup in 2022.
The Hungarian national team was punished by the European Football Association by playing 3 matches behind closed doors, after racist chants during the last European Nations "Euro 2020", but this penalty does not apply to the World Cup qualifiers of the International Federation..
England is at the top of Group I with 9 points after winning 3 matches, two points ahead of Hungary, who is in second place.
"We always prepare the team for everything really and we did that this week," Southgate said at the match press conference when asked if he had prepared the players in case they were subjected to racist chants.".
"But we know we have our own issues at home, so we don't really focus on other countries, we focus on ourselves and make sure we get our things right," Southgate continued.
Regarding the injuries in his country, Southgate said: "Sancho has a slight bruise and the medical staff will evaluate his condition to see if he can participate in the match.".