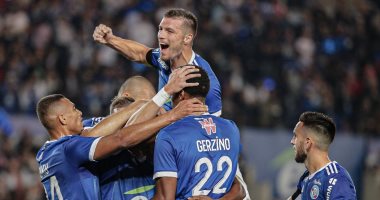 Strasbourg beat its host Metz 3-0 in the sixth round of the French Premier League.
Ludovic Ajurki opened the scoring with a penalty kick in the sixth minute.
Habib Mohamedou Diallo added the second and third goals in the 26th and 40th minutes.
With this result, Strasbourg raised its score to seven points in tenth place, while Metz's balance froze at three points in the penultimate position.
On the other hand, star Kylian Mbappe, the Paris Saint-Germain striker, faces the risk of missing the match against his host Lyon, scheduled for next Sunday evening, at the top of the matches of the sixth round of the French League, due to the injury he suffered during the match against Club Brugge on Wednesday, as part of competitions The first round of the Champions League group stage for the current season 2021-2022.
Mbappe left the confrontation with Paris Saint-Germain and Club Brugge, in the 51st minute, and Argentine star Mauro Icardi entered in his place in the 51st minute of the meeting, as the player suffered a foot injury.
And the French newspaper "Le Parisien" reported that Mbappe does not suffer from a worrying injury, as he suffered a toe injury, but his presence in the face of Lyon is not confirmed so far.
Paris Saint-Germain leads the French Ligue 1 standings this season with 15 points, after winning its five matches in the tournament, the last of which was the big win over Clermont with a clean four.