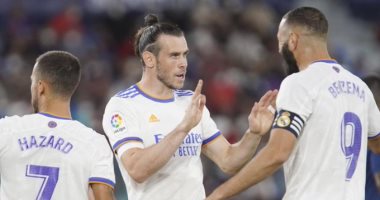 Real Madrid returns to play again at the "Santiago Bernabeu" stadium in the presence of its fans for the first time in a long time, after the completion of the development process inside the castle of the royal team, where it hosts its rival Celta Vigo, in the confrontation scheduled to take place at nine o'clock this evening, Sunday, in the round competitions The fourth of the Spanish League "La Liga" competition, and the match is scheduled to be broadcast on beIN Sports 1 HD Premium.
Real Madrid will play tonight's match led by its Italian coach Carlo Ancelotti, and he leads the Spanish league standings with 7 points, before the start of the round matches, surpassing only goal difference from each of: Valencia, Seville, Barcelona, ​​Atletico Madrid and Real Mallorca, who have the same number of points. .
Meringue collected 7 points in La Liga this season, as it swept Deportivo Alaves in the first round with a score of 4-1, then tied with Levante 3-3 in the second round, before snatching a difficult victory from its host Real Betis with a clean goal, at the "Pento Villamarin" stadium. In the third round competition.
This is the first match hosted by the "Santiago Bernabeu" stadium, the stronghold of Real Madrid, after the end of the reform phase that it witnessed in the last period, since March 1, 2020, specifically after 560 days of not hosting matches.
The Spanish team, Real Madrid, under the leadership of coach Carlo Ancelotti, will face many strong confrontations in the month of September in many tournaments, after the end of the international break at the beginning of next month.
Real Madrid is playing 6 consecutive matches in 17 days in the Spanish League and the Champions League, where the royal team plays 4 La Liga matches and two matches at the start of its Champions League campaign in the new season 2021-2022.
The schedule of Real Madrid matches in September was as follows:
Real Madrid x Celta de Vigo (Sunday 12 September, 9pm).
Inter Milan x Real Madrid (Wednesday, September 15, 9pm).
Valencia x Real Madrid (Saturday 18 or Sunday 19 September).
Real Madrid x Mallorca (Tuesday 21, Wednesday 22 or Thursday 23 September).
Real Madrid x Villarreal (Saturday 25 or Sunday 26 September).
Real Madrid x Sherif Tiraspol (Tuesday, September 28, 9pm).