Juventus team duo Federico Chiesa and Swede Diane Kulusevsky published photos of their visit to the Egyptian Museum in Turin today, Friday, through their accounts on the social networking sites "Instagram".
The official account of the Egyptian Museum in Turin, via "Instagram", commented on the visit of the Juventus duo, saying: "Thank you for visiting us."
The Italian website, Calciomercato, reported that the Juventus duo, Chiesa and Kulusevsky, enjoyed the beauty of the Egyptian Museum in Turin.
The Egyptian Museum in Turin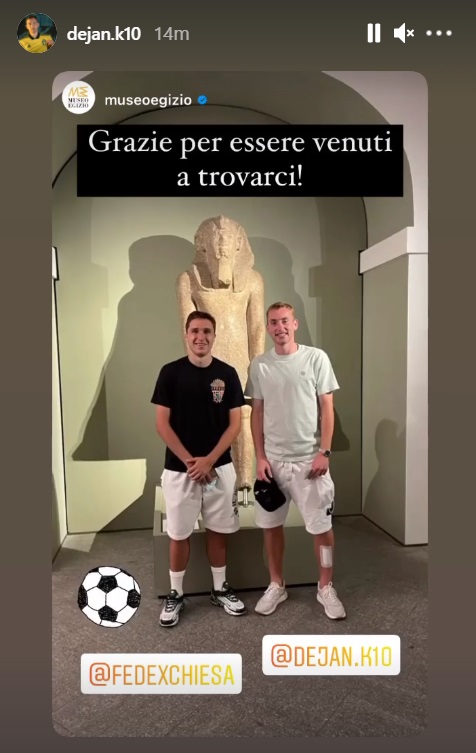 Chiesa and Kulusevsky
The Egyptian Museum in Turin is specialized in displaying ancient Egyptian antiquities and contains the largest collection of Egyptian artifacts, numbering 30,000 pieces.
Among the most prominent artifacts in the Turin Museum is the "Royal Manuscript", which is considered the most important source in monitoring the sequence of the royal families in ancient Egypt, the statue of the god Isis, another statue of Ramses II, and the Temple of Elisa, which the Egyptian government presented as a gift to the museum in exchange for cooperation in saving the antiquities of Nubia. From the drowning, the group of statues of the kings of the modern state, the temple of Tuthmosis III, the coffins and mummies of the Droviti group, the Kha and Meret tombs discovered by Sheparelli, in addition to three copies of the Book of the Dead.
The Turin Museum is considered the second most important international museum after the Egyptian Museum in Tahrir, where it is visited by more than one million visitors annually. It is ranked first among Italian museums, and ninth in Europe, in terms of its artistic, historical and scientific importance..
In another context, Juve is preparing for a strong confrontation against its guest Milan, scheduled for tomorrow, Sunday, at the "Allianz" stadium, at the top of the fourth round of the Italian League.
Juventus has one point in the 16th place in the Calcio table, after a draw against Udinese, and a loss against Empoli Napoli.