Today, Sunday, two matches were held in the sixth round of the English Premier League competition, "Premier League" for the current season 2021-2022, Arsenal beat Tottenham in the derby, while Southampton fell to Wolverhampton with a free goal.
English Premier League standings
Arsenal beat its neighbor Tottenham 3-1 during the match that brought the two teams together this evening, Saturday, at the "Emirates" stadium, the stronghold of the Gunners in the north London derby, in the top of the sixth round competitions.
Arsenal occupies tenth place in the English Premier League table with a second consecutive victory with 9 points, while Tottenham occupies 11th place with the same balance of points..
English Premier League standings
The Egyptian star Mohamed Salah leads the English Premier League standings, with 14 points, after his exciting draw with his host Brentford 3-3, taking advantage of the fall of Chelsea and Manchester United, losing against Manchester City and Aston Villa, 1–0.
Manchester City came in second place with 13 points, after their valuable victory over its host Chelsea, which is third with the same number of points, but City outperforms the goal difference.
English Premier League standings
Manchester United finished fourth with 13 points after losing to Aston Villa with a clean goal, and with the same balance, Everton came in fifth place, after beating Norwich City 2-0.
The sixth round of the English Premier League is scheduled to conclude tomorrow, Monday, with a meeting between Crystal Palace and its guest, Brighton.
The English Premier League table was as follows: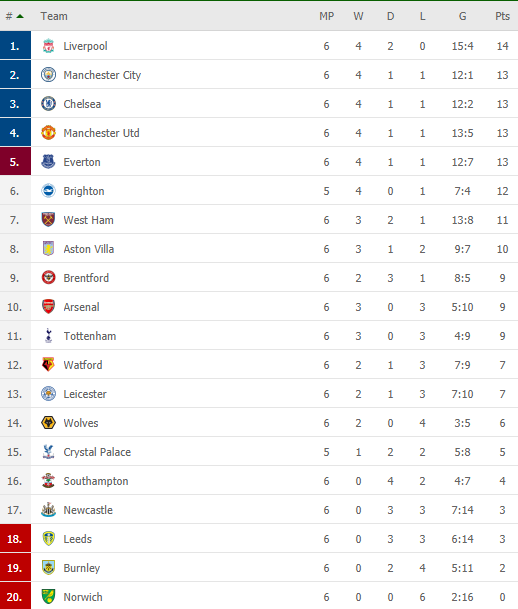 English Premier League table