Since its appearance in the events of the animated movie "Cook Mouse", the "Butterfly with Sauce" has been in the imagination of children and has become one of the foods they want to eat, which is happy news for mothers because the components of this delicious and delicious dish are a large number of different types of vegetables rich in important nutrients and vitamins. For the children's body, which they need during their first period of growth, so the seventh day, with Chef Amr Selim, will show how to make "ratatouille" or what is called the khalbita with sauce as a delicious lunch for children, and he explained that we can also participate with our children in preparing it.
How to make "ratatouille" mixed with sauce
Ingredients
3 zucchini
3 white eggplant
3 black eggplant
3 potatoes
3 pcs tomatoes
3 onions
How to make "ratatouille" mixed with sauce
How to make the sauce
grated onion
tablespoon minced garlic
3 tablespoons olive oil
3 grated tomatoes
Salt, black pepper and thyme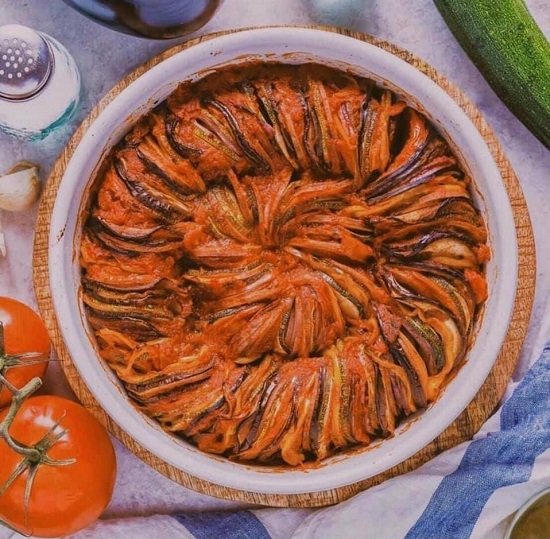 Mixed with sauce
How to make "ratatouille" mixed with sauce
How to prepare
First, to prepare the sauce, fry the grated onion in the oil and add black pepper.
Then add the grated tomatoes, add a pinch of thyme, stir well and let it take the taste of the onions and sag a little..
Cut the vegetables into equal rings, then add a little tomato sauce to the pyrex.
Arrange and arrange the vegetables artistically alternately, add the rest of the sauce and season with salt, pepper, garlic, thyme and a little olive oil.
Then cover the mold with aluminum foil and place it in the oven for 30 minutes.
Remove the aluminum foil and put it in the oven for 15 minutes, until it gets a nice color
Serve ratatouille hot and garnish with basil leaves with meat dishes or grilled dishes.