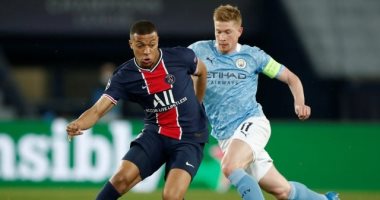 The fiery summit between French Paris Saint-Germain and its guest Manchester City, England, combines the two most expensive teams in the world in terms of marketing value, as the match will be held at nine in the evening, Tuesday, at the "Princes Park" stadium, as part of the second round of the group stage competitions in the Champions League. Europe in the current season 2021-2022.
The global "Transfer Market" website stated that the confrontation between PSG and Citizens is between the two most expensive teams in the world, with a market value of 1.05 billion euros, to be at the top of the market, followed by Paris Saint-Germain, with a value of 998 million euros.
The young French star, Kylian Mbappe, is the most expensive player in the ranks of Paris Saint-Germain, with a marketing value of 160 million euros, compared to 100 million euros for Belgian Kevin De Bruyne, the most expensive in Manchester City.
Paris Saint-Germain is playing tonight's confrontation with a vengeful flavor, after it was eliminated by Manchester City last season from the semi-finals after losing back and forth 2-1 and 2-0, as the children of Spanish coach Pep Guardiola historically excel in his confrontations against the Parisian team at the level The competition by winning 3 matches and resolving the fourth match.
Manchester City leads the first group with 3 points, after its broad victory in the first round over German Leipzig 6-3, while the Paris team fell into the trap of a positive tie against its Belgian host Club Brugge, 1-1.
Paris Saint-Germain leads the French league standings with 24 points, after achieving the full mark, by winning 8 consecutive matches, after its last victory over Montpellier with a clean double, on the other hand, Manchester City achieved a valuable victory over its host Chelsea with a clean goal, in the Blues stronghold. Stamford Bridge, in the sixth round of the English Premier League.