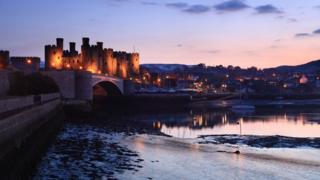 Four councils in north Wales are to go into local lockdown in a bid to tackle the spread of Covid-19.
People will not be able to leave or enter Conwy, Denbighshire, Flintshire, and Wrexham unless they have a "reasonable excuse" such as work or education.
They are the same restrictions as seen in most of south Wales, where lockdowns cover 11 different areas.
The new measures will come into effect at 18:00 BST on Thursday.
It will be illegal to meet others indoors who are not within your immediate household.
Vaughan Gething, Wales' health minister, said a similar pattern of transmission had been seen in the four areas as there had been in the south.
Rates in neighbouring Gwynedd and Anglesey currently "remain low", Mr Gething said, making he announcement in the Welsh Parliament on Tuesday evening.
Tuesday's announcement means 504,956 more people will be added to local lockdowns, with a total of 2.3 million people under tougher restrictions than at the start of September.
The announcement follows a meeting between Mr Gething, First Minister Mark Drakeford and council leaders, police and public health experts.
Just six mostly rural counties – Monmouthshire, Pembrokeshire, Ceredigion, Gwynedd, Isle of Anglesey and Powys – will not be subject to restrictions from Thursday.
Mr Gething said: "Large parts of Wales will now be subject to local restrictions but I want to be clear – this is not a national lockdown.
"These are a series of local restrictions to respond to rises in cases in individual areas."
He said there were no "immediate plans for any further national restrictions".
Covid-19 case rate changes in north Wales
Cases per 100,000 people, seven day rolling average
Conwy has seen 42.7 cases per 100,000 people in the latest week, while the equivalent figure for Denbighshire was 41.8.
In Flintshire it was 45.5, and Wrexham it is 33.1.
The worst rate in Wales is in Blaenau Gwent which has a rate of 307.7 per 100,000 over seven days.
In the south the areas of Blaenau Gwent, Bridgend, Caerphilly, Cardiff, Newport, Rhondda Cynon Taf, Swansea, Torfaen, Merthyr Tydfil, Neath Port Talbot and the Vale of Glamorgan are all subject to restrictions.
The town of Llanelli is also under local lockdown rules.
Mr Gething said in Caerphilly and Newport there had been "real falls in case numbers".
"We are hopeful that we will be able to take action to relax these restrictions in these areas if those case numbers continue to fall," he said.
What is the political reaction?
Clwyd West Conservative Member of the Senedd Darren Millar said many "will question whether such measures are entirely necessary".
"The Welsh Government therefore needs to be fully transparent and outline to all residents of Denbighshire, Conwy, Flintshire and Wrexham why such restrictions in these areas are needed, including sharing community by community data so that we can see whether the measures are proportionate."
Plaid Cymru's Rhun ap Iorwerth said the news would be a "heavy blow to those living in those areas soon to be under new restrictions" and called for "hyperlocal measures where possible, focusing on specific clusters".
The party's health spokesman said: "This would be far more effective with a properly functioning and robust testing system – with fast testing and fast results for fast tracing to isolate cases – which we do not currently have and is something the health minister must resolve with absolute urgency."
What are the rules?
Under the restrictions no-one can leave or enter a lockdown area except for a limited set of reasons, including:
to work, if you cannot work from home
to provide care
travelling to education
elite athletic training and competitions
to provide or receive emergency assistance
to meet a legal obligation, and to access or receive public services
to avoid injury or illness or escape a risk of harm
It is permitted to travel through the areas concerned, so motorists can continue to use the A55 to get to or out of Gwynedd and Anglesey.
Rules allowing people to meet extended households are suspended, meaning people can only be with their usual household when indoors, including in pubs and restaurants.
Other Wales-wide restrictions apply, including the wearing of face masks in shops.
Source link