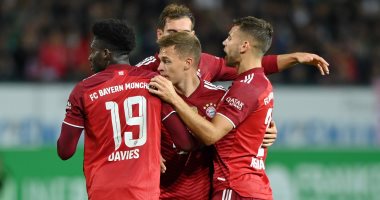 Bayern Munich will host Dynamo Kiev at 9:00 pm today, Wednesday, in the second round of the group stage of the Champions League at the Allianz Arena.
Bayern Munich will play today's match against Dynamo Kiev, and it is at the top of Group E with 3 points, which it won by beating Barcelona 3-0 in the first round at the Camp Nou.
Ukraine's Dynamo Kyiv drew with Benfica, in the same round, to earn one point each.
Bayern Munich seeks to defeat Dynamo Chievo and grab the three points, in order to confirm its lead in Group E in the Champions League.
Bayern Munich plays its first match in the Champions League, at its stadium, "Allianz Arena" and among its fans.
Bayern Munich achieved a series of distinguished victories throughout 7 consecutive meetings, starting with the German Super Cup after beating Borussia Dortmund 3-1 and crowning the title, then 5 German Badlory victories, in addition to defeating Barcelona by three in the opening of the Champions League campaign.
Bayern Munich leads the German league standings with 16 points, collected from 6 matches, between 5 wins and one draw.