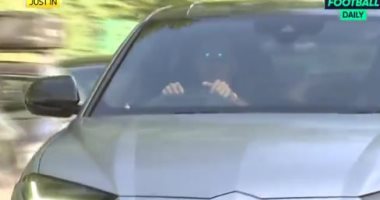 Portuguese Cristiano Ronaldo arrived today, Wednesday, at the training headquarters of his team, Manchester United, this morning, amid great media interest.
And the Manchester United website on Twitter and the Sky Sports network posted a video of Cristiano Ronaldo arriving for his first day of full training ahead of his possible second appearance with Manchester United this weekend.
Yesterday was Ronaldo's first appearance in a part of the training, the Manchester United account celebrated the first training of Portuguese star Cristiano Ronaldo, after his return to the Red Devils stronghold, after he joined recently from the Italian club Juventus to return again to his English club.
And the United account, via Twitter, published screenshots of Don's first training with the Devils, accompanied by a comment: "Today's training makes us feel a little nostalgic."
And the official website of the Manchester United team announced, on Tuesday, the arrival of the team's striker, Cristiano Ronaldo, to the Red Devils training headquarters, and his meeting with his coach, Ole Gunnar Solskjaer.
And the official website of the Devils published an official statement on its website and through its account on Twitter, in which he confirmed that Ronaldo did not waste any time and joined the training session with his colleagues today, adding that Ronaldo is enjoying the first day at Carrington.
Ronaldo returned to Old Trafford after 12 years of absence, as Cristiano Ronaldo spent his first day at Carrington after returning to the club before the end of the summer transfer period.
The statement added that Ronaldo was keen to return to familiar territory, to begin this exciting final chapter of his career with United, after breaking the record for men's international goals while with Portugal last week.