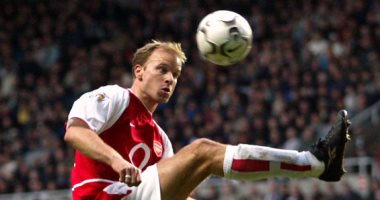 You may forget a match and you cannot remember its events, and you may forget players with their eyes and do not remember their names when one of your friends reminds you of them, but it is very difficult to forget the wonderful goals scored by the stars of the round witch, whose names are immortalized in the football records, and have remained to this day stuck In everyone's mind.
"Goal Morning" is a daily report in which we will present to you every morning a collection of the most beautiful football goals scored by the game's top stars..
Dutchman Dennis Bergkamp is considered the most prominent legend of Arsenal club in the era of historical leadership in the late nineties until the middle of the new millennium, and he scored a goal that is difficult for Arsenal fans or Premier League fans in general.
Arsenal against Newcastle United in 2002, in a Premier League match, Bergkamp received the ball from behind and dribbled, which is considered his invention, which later became a trademark registered in his name, after putting the Newcastle defender in his back and sprinting the ball forward, in dribbling the easy, abstaining to find himself alone in the goal.
The FA chose Bergkamp's goal as the best in the history of the Premier League, in 2016 during the celebration of the 14th anniversary of the goal..