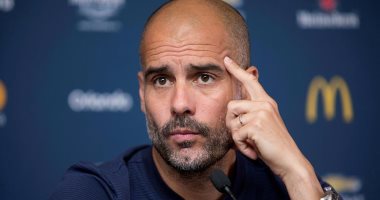 speak spanish Pep Guardiola, coach of Manchester City, during the press conference for his team's match against Chelsea, tomorrow, about the strength of the competition in the English Premier League this season.
Stamford Bridge will host the sixth round of the English Premier League match between Manchester City and Chelsea at 1:30 pm tomorrow.
Chelsea enters the match digitally superior to City, especially since the London team managed last season to snatch the Champions League title from Spanish coach Pep Guardiola's team, and also eliminated him from the FA Cup semi-finals.
Guardiola said, "We are preparing like we did for Southampton and the previous matches, and we are trying to read how this match will be and what we have done in the last matches. But we played a great game, we lost focus a bit in the final touch, but that is no less than Chelsea deserve the title, as they are an exceptional team with character."
Regarding the team's absence, Guardiola said, "We will decide whether we can involve those returning from injury tomorrow or not."
On his preparation for the match, he said, "We are trying to learn in every match, and we are facing a new competition and a new match, and we know the strong points we have and see what we can do to be better, this is our way of thinking, it will be the same against Paris Saint-Germain and Liverpool before the international break." .
"The Premier League is more difficult than ever and everyone should be proud of the fantastic league we have, great coaches in many ways, quality players."
Regarding the crowd, he said, "It is a great honor to be here and to enjoy participating in the Premier League in this country, thank you."