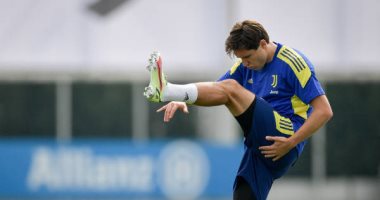 Juventus striker Federico Chiesa has returned to the old lady's training session in preparation for facing Milan in the fourth round of the Calcio championship 2021-2022 season, which is scheduled to be held next Sunday, at the Allianz Stadium.
And, according to the Italian newspaper, "La Gazzetta dello Sport", Chiesa participated in Juve's training today, Thursday, which promises good news for Massimiliano Allegri, coach of the old lady, before the important Milan match in the Italian League.
Federico Chiesa was absent from Juventus, against Napoli and Malmo, due to a hamstring injury.
She added that Juventus' training also witnessed the return of Bernardeschi, who missed the Napoli and Malmo matches, respectively.
I continued, that minutes before the start of Juventus' training, coach Massimiliano Allegri held an important meeting with the players, and told them that the start of the season was not good at all and that improvement must be made in what is coming at the local and European levels.
The Juventus team is going through a bad period in the Italian league, where it lost two matches and drew one, out of a total of 3 rounds, to occupy the 16th place in the Calcio ranking table, with one point.
It is worth noting that Juventus defeated Malmo 3-0 in the opening group stage of the Champions League.