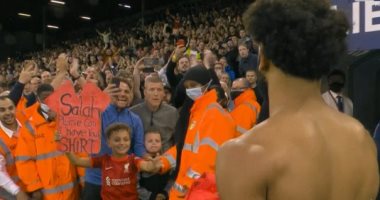 The Egyptian star, Mohamed Salah, the Liverpool player, presented his shirt to a young boy after the end of the Leeds United match, which ended a while ago with the Reds winning 3-0, which brought the two teams together. Tonight, Sunday, at Island Rhode Stadium"As part of the fourth round of English Premier League matches for the 2021-2022 season.
And Mohamed Salah gave his shirt to a young Liverpool fan, who raised a banner asking for the Egyptian star's shirt, so that the Egyptian pharaoh answered the little boy's request after the end of the match, amid great joy on the part of the child.
Leeds United vs Liverpool
Egyptian star Mohamed Salah scored Liverpool's first goal in the 20th minute, after receiving Trent Alexander-Arnold's cross to put it directly in the goal, raising his score to 3 goals this season in the Premier League.
Mohamed Salah raised his score to 100 goals in the English Premier League, after today's goal, and became the fifth fastest player to achieve this achievement in the history of the Premier League, and the second African and the 30th player in general.
Spaniard Thiago Alcantara scored another goal for Liverpool during the first half, but the referee canceled it for offending Mohamed Salah, who passed the ball to Thiago.
Brazilian Fabinho scored Liverpool's second goal in the 50th minute from a corner kick against Leeds United.
Liverpool player Harvey Elliott suffered a horrific leg injury in the 60th minute, and was carried off on a stretcher, as a result of the intervention of Pascal Strick of Leeds United in the 60th minute, who received a red card as a result of his rough intervention.
Captain Jordan Henderson participated in the place of Elliot in the 63rd minute.
Senegalese Sadio Mane scored the third goal in stoppage time with a powerful shot from inside the penalty area, after he missed many opportunities during the match..
And he played with Liverpool in today's match, the Brazilian duo Alisson Becker and Fabinho, after the International Football Association "FIFA" allowed Latin American players to play the matches, after preventing them from participating with their national teams during the international break, while Roberto Firmino is out injured.
With this result, Liverpool's balance rises to 10 points, and it is second in the English Premier League table, with a goal difference from leaders Manchester United and in partnership with Chelsea, while Leeds United's balance stopped at two points in 17th place.