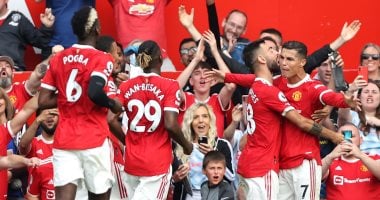 Portuguese star Cristiano Ronaldo, the Manchester United striker, is waiting for a new feature in the Champions League competitions.
According to the newspaper "Manchester Evening News", only one match separates Cristiano Ronaldo from the equation of the number of Spanish Iker Casillas (177) as the most who participated in the Champions League matches.
Manchester United will be a heavy guest against its Swiss counterpart, Young Boys, tomorrow, Tuesday, September 14, at the Wankdorf Stadium in the Champions League, and it is expected that Ronaldo will participate since the start of the meeting.
Portuguese star Cristiano Ronaldo led his Manchester United team to a great victory over Newcastle United, 4-1, in the match that brought them together at Old Trafford, in the fourth round of the English Premier League competition for the current season 2021-2022.
And the English newspaper "Daily Star" revealed in its report that Portuguese star Cristiano Ronaldo is chasing three new rewards with his arrival again to Manchester United.
And the newspaper reported, that the Portuguese star's basic salary of 475,000 pounds per week at Old Trafford, and the player's contract with Man United stipulates that he receives an additional one million pounds for any championship or title that will be achieved as United winning the Champions League or if he wins the Golden Ball award or If he wins the UEFA Player of the Year award.
The newspaper added in its report, that he was getting nearly 900,000 pounds a week in total at Italian giants Juventus before his unexpected summer move to Old Trafford worth 19 million pounds and that the player made huge concessions to join the ranks of Manchester United again.