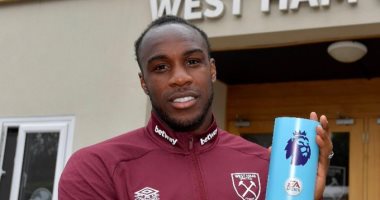 West Ham United striker, Michel Antonio, won the Premier League Player of the Month award for the month of August, after his impressive performance in the first three rounds of the Premier League.
Antonio beat his Algerian colleague Said Benrahma, in addition to the Spaniard Marcos Alonso, Chelsea's left back, Eric Dier, Tottenham defender, Demarai Gray, Everton winger, and Mason Greenwood, Manchester United player.
Antonio won the award, after scoring 4 goals, to be the top scorer in the competition, in addition to his 3 goals with West Ham.
Tottenham Hotspur coach Nuno Santo won the Premier League coach of the month award for the month of August, beating German Thomas Tuchel, Chelsea coach Rafa Benitez, Everton coach, and David Moyes, West Ham coach.
Santo led Tottenham to the top of the English Premier League after 3 rounds of the competition, with 9 points. His team is the only one that has won the first 3 rounds in the Premier League so far, as its players scored 3 goals, and they have not conceded any goal so far.
The fourth round of the English Premier League will start on Saturday, with Crystal Palace hosting Tottenham at 1:30 pm.