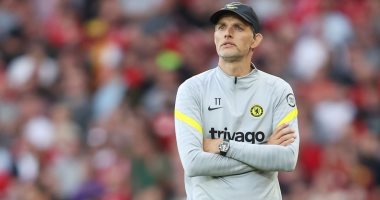 German coach Thomas Tuchel confirmed the eligibility of his 3-0 victory over his host Tottenham Hotspur in the London derby, after the strong performance of his team, especially during the events of the second half of the match, which brought them together at the "Tottenham" stadium at the top of the round. The fifth year of the English Premier League competition for the current season 2021-2022.
"I was not happy at all in the first 45 minutes, we lacked energy, and the reaction was very good, I am very happy with the performance in the second half," Tuchel said after the match.
"In the derby against Tottenham, it's not about playing with skills, it's about being aggressive, winning fights, performing as a team that we lacked energy and we spoke clearly about that at half-time. In the second half the performance was very good, and our victory was deserved."
Regarding the replacement of Mount at half-time, the German coach said, "It was a difficult decision for Mason, it seemed that we were more defensive with Mount than N'Golo, and I wanted to give a signal in my speech that I was not happy with the energy."
He praised Thiago Silva's level, saying: "He almost scored two goals, he was very strong, we are happy that he managed to score to open the match for us, but his performance even in the first half was very impressive, and his goal was well deserved."
Tottenham vs Chelsea
The two teams exchanged control and launched attacks during the first half, although Tottenham were the most dangerous on the opponent's goal.
With the start of the second half, Frenchman N'Golo Kante participated in the place of Mason Mount, so that the Blues took control of the match.
Brazilian defender Thiago Silva scored Chelsea's first goal in the 49th minute with a superb header, before Kante scored the second goal with a ground shot from outside the penalty area, which changed its direction at a Tottenham player to settle in the goal of goalkeeper Hugo Lloris.
Chelsea took control completely after the second goal, and their players missed many opportunities to increase the yield of goals, until German Toni Rudiger scored the third goal in stoppage time of the match.
With this result, Chelsea's balance rises to 13 points, and it is at the top of the English Premier League table, in partnership with Liverpool, while Tottenham's balance stopped at 9 points in seventh place.