The "Daily Express" website revealed that the respiratory syncytial virus RSV Rising as winter approaches, doctors warn that there is no vaccine, noting that the Corona virus is getting our attention but it is not the only viral threat to confront.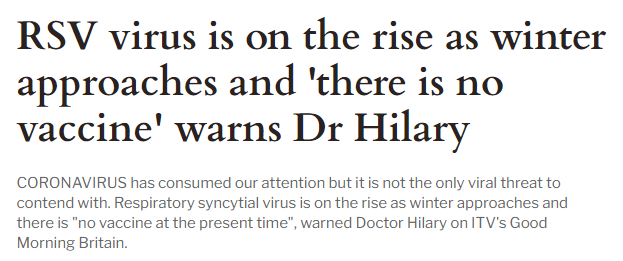 Respiratory syncytial virus warnings
The site said, "The United Kingdom has focused on containing the Corona virus, but it is not the only virus that can be faced, as with the approach of winter, the respiratory syncytial virus (RSV) is spreading (RSV).
Dr. Hilary Jones, in Britain, explained, "We hear many reports of prolonged colds and recurrent colds," noting that the respiratory syncytial virus RSVIt is a common respiratory virus that usually causes mild cold-like symptoms, as the weather is cooler, people flock together more, and the lifting of coronavirus restrictions has led to an increase in its spread.
Doctors added that coughing is a common warning sign of respiratory syncytial virus, and the situation poses a serious threat to the NHS. NHS Because "there is no vaccine at the moment for this virus.
Dr. Hilary Jones pointed out that the respiratory syncytial virus RSV It is common in children but can be transmitted to adults as well.
The US Centers for Disease Control and Prevention warns (CDC) Although most people recover within a week or two, RSV can be dangerous, especially for infants and the elderly.".
Respiratory syncytial virusRSV The most common cause of bronchiolitis (inflammation of the small airways in the lung) and pneumonia (infection of the lungs), the CDC explains.
Bronchiolitis is a common infection of the lower respiratory tract that affects infants and young children under the age of two years.
Symptoms..
The US Centers for Disease Control and Prevention notes that symptoms usually appear in people infected with respiratory syncytial virus RSV Within 4 to 6 days after infection.
Symptoms of infection include RSV Usually the following: Runny nose, poor appetite, cough, sneezing, fever, wheezing.
The CDC says, "These symptoms usually appear in stages, not all at once, explaining that in very young children infected with the virus RSVThe only symptoms may be irritability, decreased activity, and difficulty breathing." However, in severe cases, RSV infection can spread. RSV to the lower respiratory tract, causing pneumonia or bronchiolitis.
Severe signs and symptoms may include:
Fever, severe cough, wheezing, high-pitched sound, usually heard when exhaling, rapid breathing or difficulty breathing, and the affected person is asked to sit rather than lie down, bluish skin color due to lack of oxygen.
The site said, that because the respiratory syncytial virus RSV Corona virus is both types of respiratory viruses, some symptoms of respiratory syncytial virus can beRSV Corona is similar, explaining that "in children, corona often leads to mild symptoms such as fever, runny nose and cough."
The site confirmed that with the presence of respiratory syncytial virus, it may reduce immunity and increase the risk of infection with the Corona virus for children and adults, and this infection may occur together, which may exacerbate the severity of the Corona virus.
The Mayo Clinic research and medical group explained Mayo Clinic If you have symptoms of respiratory illness, your doctor may recommend a corona test, adding, "Seek immediate medical attention if your child or anyone is at risk of contracting this virus, especially when symptoms such as difficulty breathing, high temperature, or blue skin appear. Especially on the lips and fingernails.