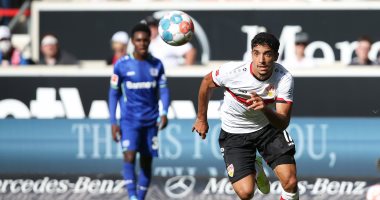 Egyptian international Omar Marmoush, Stuttgart player, presented a distinguished level during the match that brought his team 3-1 against Bayer Leverkusen, in the meeting that brought the two teams together today, Sunday, at the "Mercedes-Benz Arena", in the fifth round of the "Bundesliga" league. For the current season 2021-2022.
Omar Marmoush participated with his team, Stuttgart, in the entire match, but he did not manage to beat Bayer Leverkusen.
Despite the loss of Stuttgart in the German League today, Omar Marmoush continued the stage of restoring confidence, and his permanent appearance in the Bundesliga has become a topic of conversation for the Egyptian fans during the current period.
And the coach of the Egyptian national team, Carlos Queiroz, chose Omar Marmoush as one of the professional players in the five major leagues to compete in the next camp of the Pharaohs.
And according to what was monitored by the global "Sofa Score" website, which specializes in player numbers, the statistics of the Egyptian pharaoh came as follows:
Minutes: 90
Number of goals: 0
Ace count: 0
Shots on goal: 1
Shots off target: 2
Dribbling attempts: 2 out of 7
Number of touches: 49
Accurate Passes: 10 out of 12, 83%
Key Passes: 1
Crosses: 3 out of 4
Long Balls: 0
Ground Duels: 5 out of 14
Air Duels: 0 out of 2
Ball loss: 19
make mistakes: 1
Omar Marmoush
Egyptian international Omar Marmoush, a Stuttgart player on loan from Wolfsburg, became the sixth Egyptian player in history to score in the German League, after he scored the equalizer against Eintracht Frankfurt in his team's last match in the fourth round of the "Bundesliga".
Omar Marmoush scored in his first participation today with his new team, where the player succeeded in providing an outstanding performance that made him the best player in his team during the match.
Omar Marmoush was preceded by 5 Egyptian players who scored goals in the German League, and they are Hani Ramzy, a former player of Kaiserslautern and Bremen, Ahmed Salah Hosni in Stuttgart, Mohamed Zidane of Borussia Dortmund, Mainz and Hamburg, Yasser Radwan of Hans Rostock, and Samir Kamouna of Kaiserslautern.
Omar Marmoush became the second Egyptian player to score with the Stuttgart team after Ahmed Salah Hosni, who played in the German League years ago and starred strongly with him.